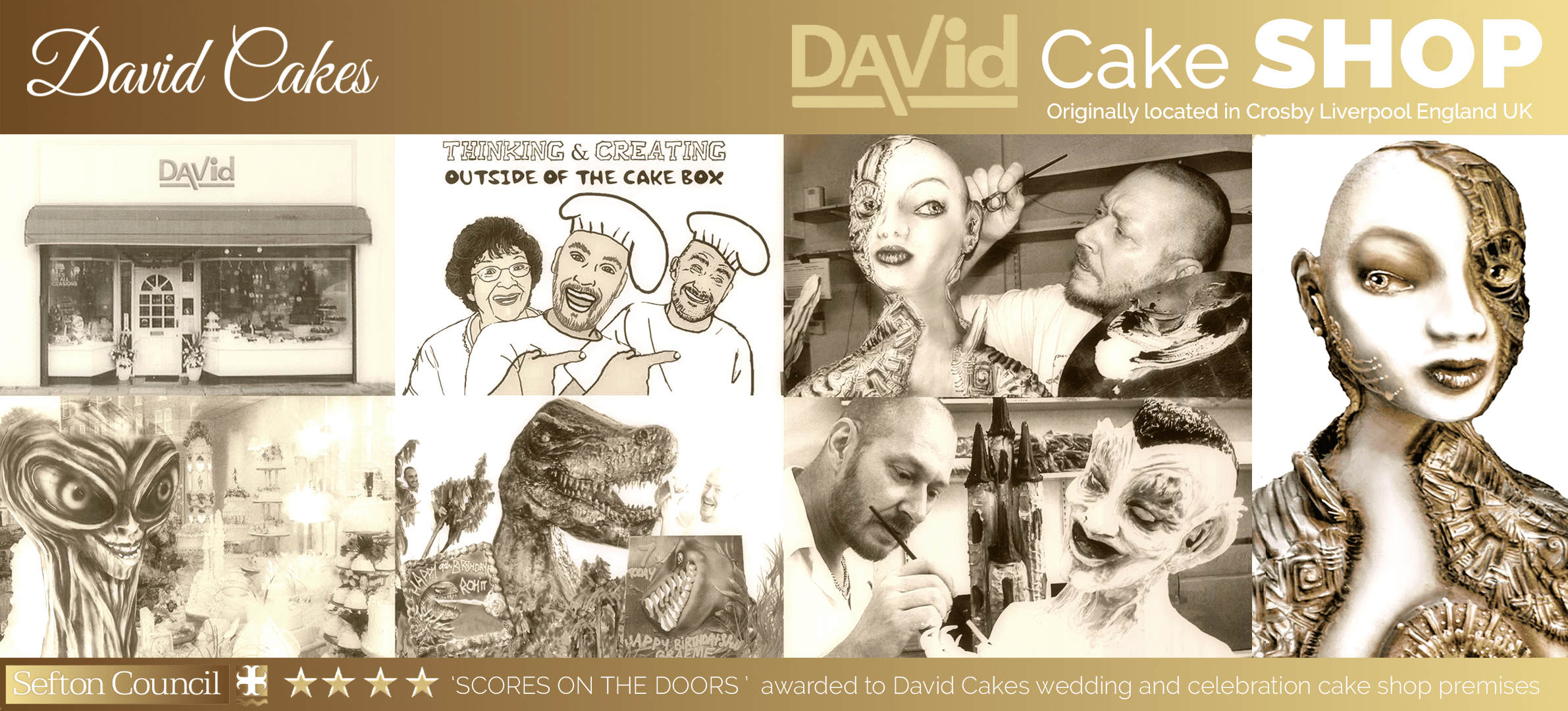 expanding creative horizons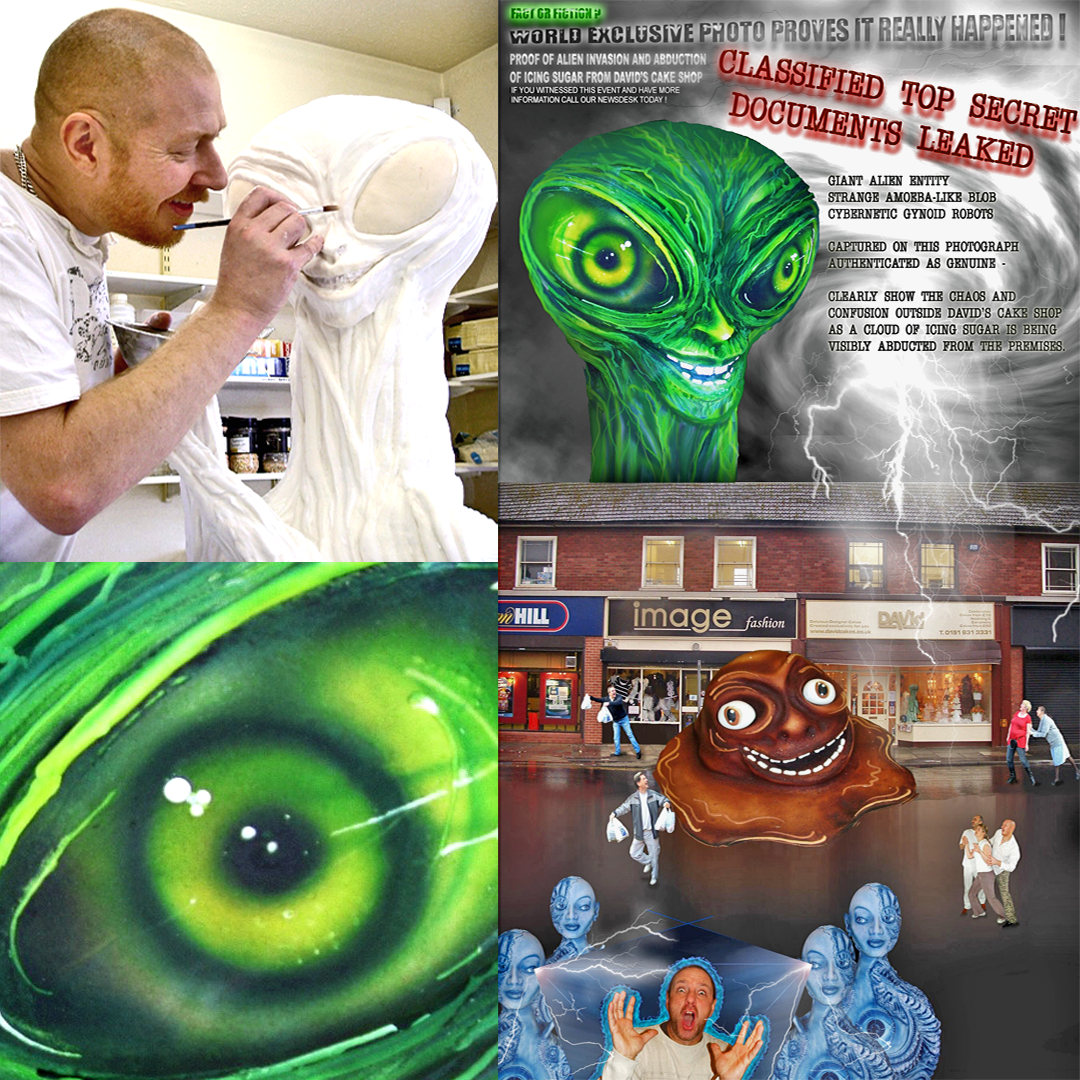 Panic in Crosby !
2008
Alien invasion at the cake shop
SCI-FI Cakes Marketing Campaign
with close encounters of a sugary kind
As he has evolved creatively David has taken his free-hand artistry in many new and exciting directions. In 2005 David watched a 3 hour documentary series about the life of Walt Disney. In awe after learning how the first celluloid animations were created using thousands of images on special paper and have them photographed frame by frame and edited together, David decided to have a go at creating a new fun cake decorating video – applying a very primitive home-made approach to the animation technique. 'JOURNEY INTO THE OVEN OF DARKNESS' (full length video can be watched in the galleries below) was David's personal tribute to the silent horror movie era of the 1920s. Blended with frame by frame digital art animation and a dramatic movie music score (which he also composed and performed), this really was an epic production, taking David weeks and weeks, working late and out of hours (sometimes through the night) in order to challenge his creative thinking while pushing his artistry to new heights. Combining his free-hand cake decorating with frame by frame animation, David produced the video using only the basic 'Windows Movie Maker' programme of the day. Starring as a zombie unmasking as himself, David is confronted by a witch (also played by David) who is clutching a magical book of horror cake ideas. She decides if David is eligible to attend a free cake decorating class that begins at midnight in The Horror House Cake Decorating Academy, set within a labyrinth of corridors, that can only be accessed by taking a ride on a ghost train! – These are the story lines of 'cheezy' cult horror 'Z' movies – and that was the plan! 'JOURNEY INTO THE OVEN OF DARKNESS' full of creepy clowns and spooky cake ideas still remains on David Cakes YouTube, capturing the imagination of visitors returning each Halloween – taking a fun fair filled cakin' crazy journey with David and friends!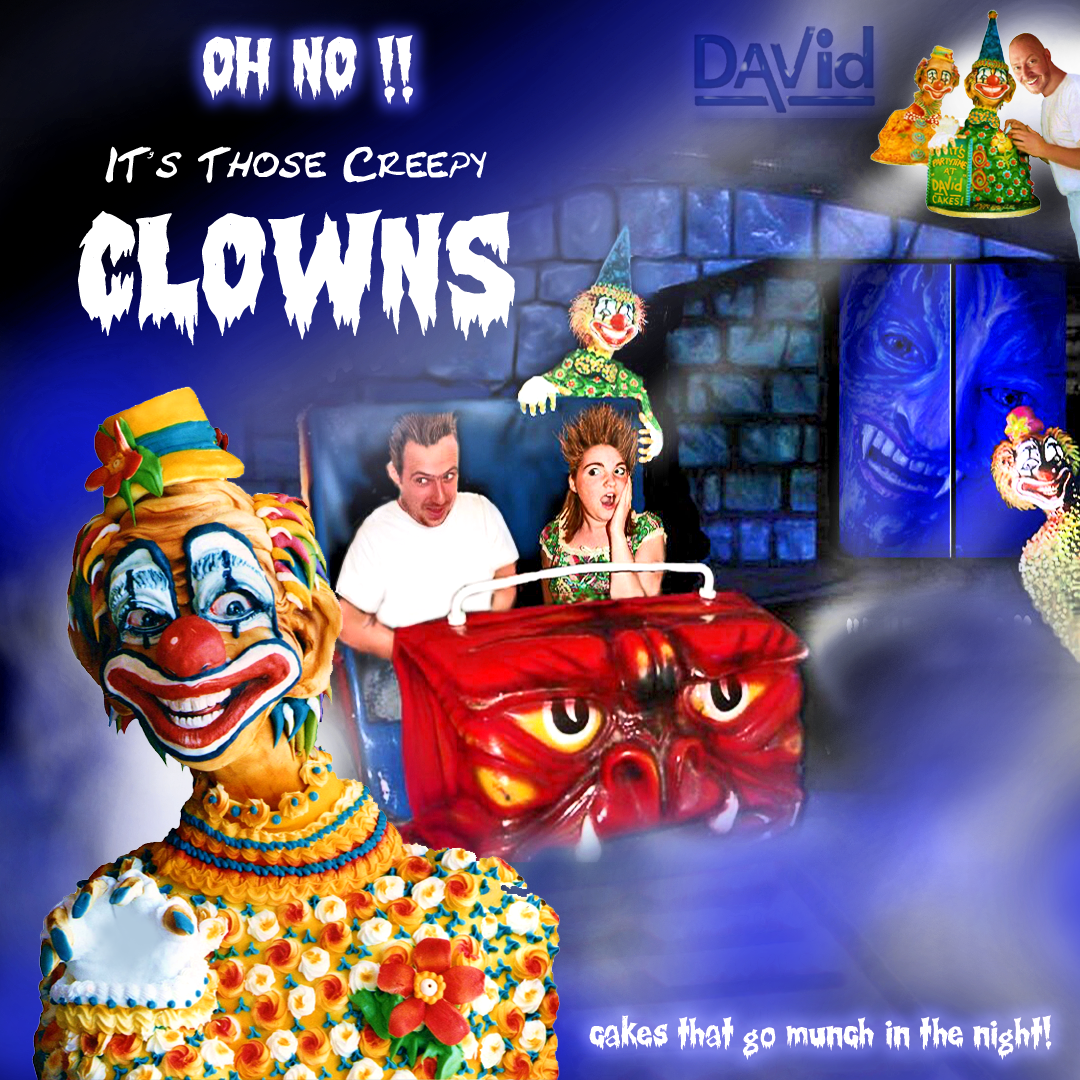 Clowning Around
2005
Ghost Train Theme Park
Horror Cakes Marketing Campaign
on spook-tastic animated adventures
Realistically ahead of his time, David has always pushed his creativity 'beyond the norm' by experimenting with design ideas as he forged ahead, crossing the boundaries of what was expected, especially during the conservative cake decorating world of the 1980's.
The 1980's – The time of 'Terminator', 'Alien' 'DYNASTY' and glorious 80's pop culture that heavily influenced the Liverpool cake decorator – at the time only in his twenties. What is interesting is that by having his Mum – Hilda (older and wiser) on board as a business partner (with a more sophisticated outlook) David Cakes cake shop 'got away' with showcasing beauty and conformity alongside non-conformist experimental artistry. This was ultimately the key to David Cakes business success as the creative appeal satisfied all age groups – young to old. It was a case of 'Love it' or 'Loathe It ' with some of David's more outrageous creations, but one thing his self expression did do – was attract attention – huge attention – in the form of publicity – FREE publicity – which for a small business with limited financial resources trying to establish itself in the market place – was an essential. Hilda saw a great business marketing opportunity and placed her son and his diverse talent into every promotional opportunity presented to her – From a decapitated 'Arnie' Terminator robot's head cake (with moving parts installed) which was displayed in the cake shop window next to a beautiful and luxurious 8 ft tall 'DYNASTY' (Alexis Colby) inspired Royal Wedding Cake – David Cakes knew how to stop traffic and get attention. Television and newspapers soon followed and publicity machine was moving along in top gear.
With a love of 1950's SCI-FI movies, David embraced UFOs and extraterrestrial beings head on with a most creatively edible and daring 2008 publicity stunt that literally created panic in Crosby!
business marketing material
promoting the David Cakes brand
beyond the mainstream 1982-2012
Select a photo below and discover more…
The Cake Shop
Retail Business Story of David Cakes
Written by David MacCarfrae
All material copyright © 2022 David Cakes. All rights reserved
All artwork and o
nline chapter layout presentation created by David MacCarfrae proudly hosted by sparkz network Liverpool England.